Hotel Obscura was a project initiated by Triage Live Art Collective's Artistic Director, Katerina Kokkinos-Kennedy and Arts House in Melbourne, Australia with European partners, Die Fabrikanten (Austria), Mezzanine Spectacles (France) & Ohi Pezoume (Greece).
The international cooperation project focused on intercultural artistic exchanges that investigated the intersections between performance, live art, site-specific, and urban arts practices. Hotel Obscura aimed at the development of rich and long-term artistic collaborations and networks for all participating partners and their cities.
Hotel Obscura was awarded a two-year EEAC project grant from the European Cultural Commission in August 2013. In the first year the project brought together emerging and established interdisciplinary performing artists to work together for an extended period. This phase included international workshops, practice exchange sessions, the Live Art Camp, a curatorial panel, laboratories dedicated to the development of live art works, site-specific and community-based actions in urban centres.
In late 2015 final projects were realised in festival in Vienna (Die Fabrikanten) and Athens (Ohi Pezoume). Followed by Tours (La Folie, GK Collective, La Transplanisphére) in February 2016, and Melbourne (Triage) in March 2016. All project outcomes showcased works generated by the activities of the overall project, featured guest artists from other countries, and responded to the unique artistic ecology of each city. In Athens, Hotel Obscura focused on a historically significant and underprivileged area of the inner city (Dourgouti); in Vienna the work was presented in Hotel Magdas a space organised and run by newly arrived refugees; in Tours the work aimed at blurring the lines between life and fiction; and in Melbourne, Hotel Obscura led audiences on a journey that was dreamlike and surreal.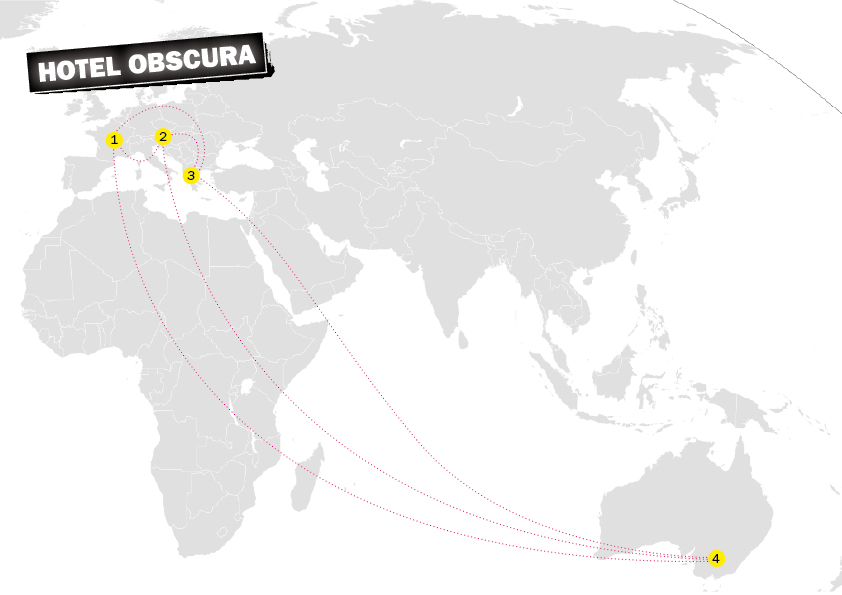 This project has been funded by the European Cultural Commission´s EACEA 3rd Country Collaboration fund, the Australia Council for the Arts, the Federal Chancellery of the Austrian Government, the City of Linz and the Federal Province of Upper Austria.