Welcome to the French HOTEL OBSCURA!
Have you ever traveled in your own city ?



For a night, you could meet strangers who are traveling in Tours.


You could come to the hotel's desk, somewhere in downtown, and enjoy a drink, observe these passanger's lifes.


Push the door, but above all, take care to stay discret !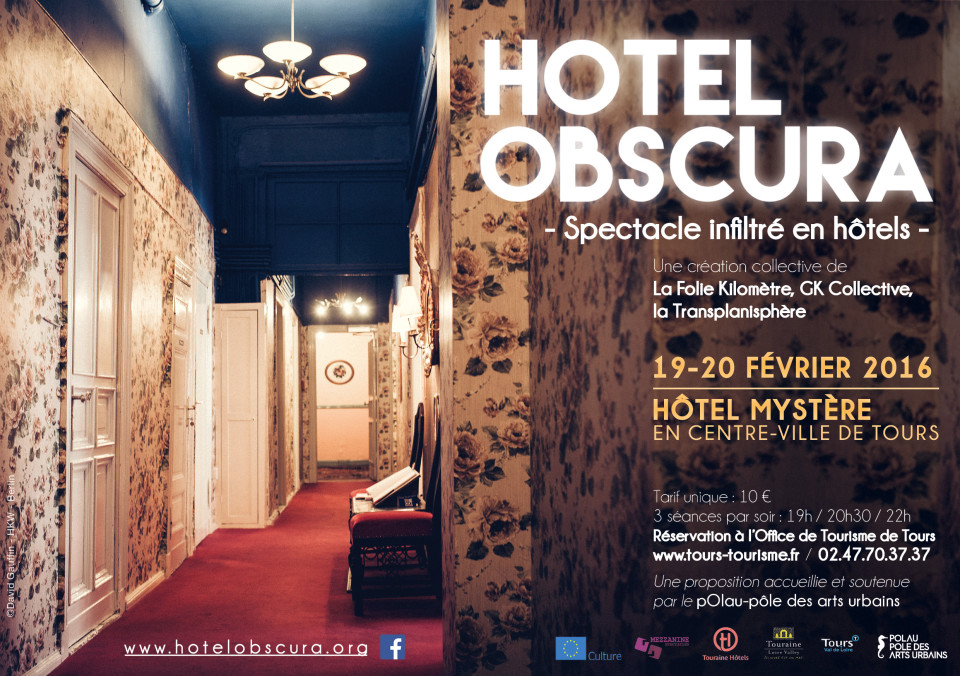 .
For this special occasion, MEZZANINE SPECTACLES gathered three French companies, who decided to associate their experience and work together. Complementarity is their fuel.
La Folie Kilomètre is a group,  exploring in situ creation and various manners to feel the landscape and to hijack the public place. With a practice of sometimes long-term ground and the methods of contextual investigations, they tent to reveal the poetry which gets free of a real-life space. Interested in problems stemming from human sciences as the anthropology or the town and country planning, they consider the space as a laboratory and as a material for artistic creation. from excursion to live performance, this multidisciplinary group about fifteen artists, professionals of the town and country planning and scientists from all France propose sensitive geographical or performative experiences.
www.lafoliekilometre.org
La Transplanisphère is a theatre company based in Paris  and led by director Bruno Freyssinet. How can art and theatre stimulate a public debate on the future of our societies? Beyond the audiences for our performances, these activities bring together students, academics, and individuals from civil society through productions, workshops, debates, interviews and publications. By leading a project made of questioning, appropriation and creative practice, La Transplanisphère wants to help to give citizens a renewed openness to the theatre of the world.
www.latransplanisphere.com
GK is a Paris-based group of associated artists focused on theatrical research and performance.  The group is led by Gabriella Cserhati. Their artistic interest and main aim is to experiment and blur the limit between fiction and reality, reaching out to audiences by fighting alienation and discrediting individualism. They are proposing and experimenting with various types of relationships among performers and the audience, like their most practiced serial, the THéâTRe CaCHé (HiDDeN THeaTeR). Their credo is avoiding and excluding any physical intrusion into the privacy of the participants and maintaining complete freedom of participation.
http://gkcollective.org